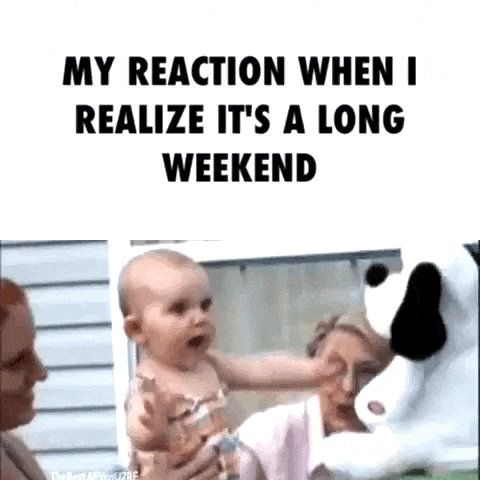 Bank holidays can be strange: just long enough to relax and have fun, but too short to truly recover, they sometimes leave you feeling more sluggish than usual when Tuesday morning rolls around and real life starts again.
For some of you, the August bank holiday is all about the Notting Hill Carnival, but according to the Met Office, one in nine Britons secretly hopes for rain to cancel their bank holiday plans, and give them an excuse to use the day for rest. After a record-breaking summer, this weekend's weather is set to be a mixed bag, giving equal opportunities to play and relax!
Since the late August bank holiday is a kind of signal of the end of summer… we are totally heartbroken to have to admit it but… it's a good time to get yourself ready for autumn. Changing seasons bring with them colds and flu, so take the weekend to relax, catch up on sleep, and practice healthy habits to start the new week refreshed and more resilient.
So how can you make the most of your bank holiday?
Plan a 'no distractions' day: treat the extra day of the weekend as a lost day, just for yourself. We're talking total social media blackout, to fully embrace JOMO. If you can, a tech detox is also brilliant to help you reset your circadian rhythms after a week of blue light from screens, to sort any sleep-cycle issues.
Get outside and reconnect to nature: time spent in green space can raise your spirits and help soothe anxiety, so make your way to one of London's beautiful parks to make the most of summer weather, or practice for autumn with a rainy walk.
Try some yoga, to care for yourself both inside and out! We're obsessed with Savasana, but you can find tutorials for just about any kind on YouTube.
Soak away the stresses of the week with an Epsom salts bath. The salts are incredible help for anyone looking to detox, de-stress and soothe aches and pains, and baths are great opportunities to explore aromatherapy: to relax and let go of stress, try bergamot (in our Earl Grey remedy), while peppermint and lemon oil (in our Peppermint and Amla remedies) are excellent mood-boosters!
Elevate your bedtime rituals by lighting some candles (we love Emma's So Naturals!) to read a book by. We know bedtime stories are amazing for children, but forget about their uses for adults, when just six minutes of bedtime reading can reduce stress and help towards a great night's sleep!
Get an early night! The sleep debt doesn't go away until you've paid back every last hour of sleep you miss. So put on your favourite alchemy hair mask, enjoy the benefits of their soothing fragrances, and get some well-earned shut-eye (and hair compliments on Tuesday morning!).